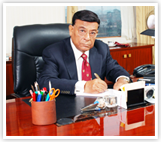 Hemendra Prasad Barooah
Mr. Hemendra Prasad Barooah was born in 1926 to Raibahadur Siva Prasad Barooah, the legendary tea planter and businessman of Assam and Kamal Kumari Barooah, a highly integrious woman of her time. Mr. Barooah graduated from the Calcutta University taking position among the first ten top students and getting top Government Scholarships' throughout. He became the first person from the North East to achieve the MBA degree in 1949 from prestigious Harvard Business School, USA.

Mr. Barooah joined the family tea plantation business in 1950 and rapidly increased the volume of its operations by undertaking modernizing plans in the gardens. Apart from acquiring several new gardens in B&A Ltd, he forayed into other business ventures like packaging, tea broking, heritage tourism and leisure resort when he promoted B & A Packaging India Ltd, Assam Tea Brokers Pvt. Ltd, Heritage North East Pvt. Ltd and Kaziranga Golf Club Pvt. Ltd. B&A Ltd was the first company promoted by an Assamese family to go public when it became listed in the Stock Exchanges at Calcutta, Bombay and Guwahati. He remained Chairman in two companies namely B&A Ltd and B&A Packaging India Ltd.

He made significant contribution for the development of 'Tea Industry' in Assam and remained a visionary in the Indian Tea Industry for his concept to corporatize the tea sector. Mr. Barooah's consummate efforts to increase the standard of living of the garden workers in terms of health, safety, education and culture have become a trend setter amongst tea garden owners in Assam. He was conferred Honorary Doctorate in 2012 by the Assam Agricultural University for his unparalleled contribution to the growth of the Tea Industry. Mr. Barooah was instrumental in establishing tea auction centre at Guwahati. His contribution towards the Tea industry as a Chairman of Indian Tea Association during 1991 to 1994 was enormous.

Mr. Barooah's managerial qualities and professionalism had been recognized by one and all. This recognition had come from all sectors - from the Tea Industry to Banking and Management. He held a string of high positions, like, Member - Tea Board of India for 3 terms and Vice-Chairman for one term, Director of Indian Airlines, Director of State Bank of India, Assam Industrial Development Corporation, Chairman of Tea Research Association, and Member of the Board of Governors, Indian Institute of Management, Joka for two terms.The Ministry of Industrial Development had also recognized Mr. Barooah's business acumen and knowledge by inducting him as a Member of the Central Advisory Council for Industries, the apex body in the country for determining Industrial Policy.

He was elected President of the 'Bengal Chamber of Commerce and Industry' the country's oldest chamber of commerce in 1996. Mr. Barooah was instrumental in opening of the Guwahati Chapter of Bengal Chambers which was the first major business Chamber in the North East, devoted to industrial development of the North East.

Mr. Barooah was an extremely social person and actively connected with various social clubs in Assam and Kolkata. He was the president of The Bengal Club, Kolkata which is one of the oldest clubs of the country.

Mr. Barooah was awarded "Padma Shri" in the year 2013 by the Government of India for his achievements in the field of Trade and Industry.

This industry stalwart and the legend left for his heavenly abode in July 2013.